This is a reminder that JMJ Catholic Radio has purchased WCOZ 91.7 New Albany and is broadcasting EWTN programing plus other programs of local Catholic interest.
CATHOLIC RADIO COMES TO THE NORTHERN TIER OF PA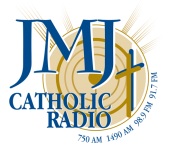 Now you can access by local FM radio the programming of EWTN (Eternal Word Television Network) with additional local Catholic programs. Tune in to WCOZ 91.7 New Albany. This station is operated in cooperation with JMJ Catholic Radio of Pittston found at AM 750 and FM 98.9 and AM1490 in Hazelton. JMJ Radio is a nonprofit corporation with a mission to bring the Good News to your home or car. JMJ is supported by listener donations.
For more information call, write or email [email protected] 570-287-4670 JMJCatholic Radio P.O. Box 851 Pittston, PA 18640