AREA ECUMENICAL THANKSGIVING PRAYER SERVICES
Friday, October 26, 2018, 02:34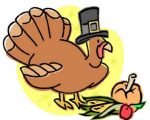 MESHOPPEN ANNUAL THANKSGIVING ECUMENICAL SERVICE
The Annual Thanksgiving Ecumenical Service for St. Joachim's Church and Meshoppen United Methodist Church will be held on Tuesday, November 20, 2018 at St. Joachim's Church at 7:00pm. There will be light refreshments following the service.
Please plan to attend.

WYALUSING AREA ECUMENICAL THANKSGIVING PRAYER SERVICE
This year's prayer service will be held at the Wyalusing Area Methodist Church at 7:00 pm on Sunday, November 18th, 2018.
All area residents are cordially invited to attend.